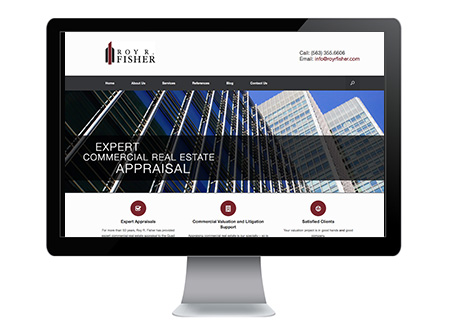 Welcome to the new Roy R. Fisher website and blog! We're glad you're here. We built this site to serve as more than just our online home – we want it to become the place you turn to for news, insight and advice on property taxes, market trends and commercial real estate appraisal. Please visit us weekly for new posts and be sure to leave a comment. We consider our blog a two-way street and we want to hear from you.
New Ownership, Same Unwavering Commitment to Service
The website isn't the only thing new at Roy R. Fisher. After 22 years as an employee of the company, I purchased the business assets in January 2013. The legal company name is now Nelson Valuations, Inc., but we will continue to do business as Roy R. Fisher. The Roy R. Fisher name has been in the Quad City market for more than 90 years, with a reputation of quality client services. We intend to maintain that same commitment to our clients, and to a quality product.
The firm's former owner Kevin Pollard is slowing down and has relocated to Florida. He returns to the Quad Cities periodically to finalize pending litigation and to take on select work. We're grateful that he continues to be a part of the team, sharing his 35+ years of appraisal experience.
Jordan Maus and I continue to serve the company's existing client base. With over 10,000 prior appraisal files in the office, and well over 2,000 comparables in our data base, our depth of knowledge in the Quad City region is unmatched.
Jordan focuses on industrial properties of all sizes and single tenant retail and office properties. I value all types of multi-family properties, along with multi-tenant retail and office, and development land. I also concentrate on litigation support for property tax appeals.
Given Kevin's semi-retirement, we hired two support staffers who are on track to become appraiser trainees in the near future. Scott Anderson came on in January, handling the hardware conversion away from Windows XP, and implementing new report writing software. He will complete initial Appraiser Education classes and become a trainee shortly.
Ashley Hixon joined us in May. She is working to convert, and clean up, the comparable
data. She will continue to manage our data while completing the initial Appraiser Education classes this fall.
Other "Housekeeping" Items
Our office is located at 2028 East 38th St, Suite 1, Davenport, IA 52807 and we still have the same phone numbers. However, to be consistent with the new website, we are in the process of changing our email addresses to @royrfisher.com.
You made it this far! Thanks for reading. Stay tuned for my next post on local property tax rates.
Is there anything you'd like me to blog about? Suggestions welcome – just drop me a note.
CONTACT:
marknelson@royrfisher.com
Ph: (563) 355.6606